New World Order,Giants, Planet X, Illuminati and More with Steve Quayle- coast to coast am
July 31, 2013 in Weird News
Author and researcher Steve Quayle talked on a variety of topics such as giants, weather modification, secret aircraft, biblical prophecy, genetic engineering, the Illuminati agenda, and Planet X. The machinery to affect weather has gotten smaller and cheaper over the years, and there are currently 72 ionospheric heaters, in addition climate-controlling technology like Project HAARP, he outlined. Sightings of silent triangular-shaped craft are on the rise, and a battle in outer space is imminent, said Quayle, naming "extra-dimensionals" and black-ops as some of the participants.
The "super-soldier" program, Stargate technology, and CERN are involved in efforts to re-animate ancient giants, who were some 12-18 ft. height, he declared. "We are experiencing now the full implementation, in my opinion, of the Luciferian war on humanity. We talk about the New World Order, the Illuminati, the International League, but what is the prime directive of all those entities? It's the destruction of a five and half billion people," he cautioned.
Quayle reported his recent conversation with a "high ranking Goldman Sachs official" who'd visited one of the elite's underground cities that was being prepared. The official warned him that a "global flu" had already been determined, and a mandatory vaccination will be required, with those who refuse to take it being sent to FEMA camps. On the subject of Planet X, Quayle suggested that we're already seeing its effects throughout the solar system, and eventually, it will lead to a massive number of simultaneous active volcanoes on Earth.
Biography: Stephen Quayle is the author of five books.
For over thirty years, he has been investigating ancient civilizations, giants, UFOs and biological warfare as they relate to the future of mankind. Stephen discusses the coming worst-case scenarios approaching this world and how they interrelate to each other. Earthquakes, volcanoes, nuclear and biological terrorism, coupled with the planned financial meltdown of the U.S. dollar will thrust us into unimagined tribulations.
Stephen Quayle is on record as stating that we have moved from the realm of natural threats into the arena of supernaturally guided events of the unseen hand of evil orchestrating world events of unfathomable proportions.
Wikipedia Zecharia Sitchin (Azerbaijani: Zaxariya Sitçin) (July 11, 1920 — October 9, 2010) was an Azerbaijani-born American author of books proposing an explanation for human origins involving ancient astronauts. Sitchin attributes the creation of the ancient Sumerian culture to the Anunnaki, which he states was a race of extraterrestrials from a planet beyond Neptune called Nibiru.
He believed this hypothetical planet of Nibiru to be in an elongated, elliptical orbit in the Earth's own Solar System, asserting that Sumerian mythology reflects this view. Sitchin's books have sold millions of copies worldwide and have been translated into more than 25 languages.
According to Sitchin, Nibiru (called "the twelfth planet" because, Sitchin claimed, the Sumerians' gods-given conception of the Solar System counted all eight planets, plus Pluto, the Sun and the Moon) was the home of a technologically advanced human-like extraterrestrial race called the Anunnaki in Sumerian myth, who Sitchin states are called the Nephilim in Genesis.
He wrote that they evolved after Nibiru entered the solar system and first arrived on Earth probably 450,000 years ago, looking for minerals, especially gold, which they found and mined in Africa. Sitchin states that these "gods" were the rank-and-file workers of the colonial expedition to Earth from planet Nibiru.
Sitchin wrote that Enki suggested that to relieve the Anunnaki, who had mutinied over their dissatisfaction with their working conditions, that primitive workers (Homo sapiens) be created by genetic engineering as slaves to replace them in the gold mines by crossing extraterrestrial genes with those of Homo erectus.
According to Sitchin, ancient inscriptions report that the human civilization in Sumer, Mesopotamia, was set up under the guidance of these "gods", and human kingship was inaugurated to provide intermediaries between mankind and the Anunnaki (creating the "divine right of kings" doctrine).
Sitchin believes that fallout from nuclear weapons, used during a war between factions of the extraterrestrials, is the "evil wind" described in the Lament for Ur that destroyed Ur around 2000 BC. Sitchin states the exact year is 2024 BC.
Sitchin says that his research coincides with many biblical texts, and that biblical texts come originally from Sumerian writings
Commentary by Brett M. Christensen   from Hoax-Slayer Website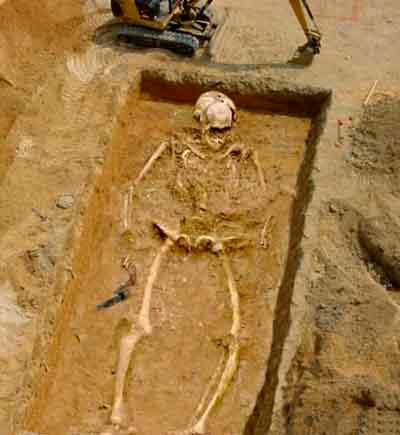 hoax. The first variant above claims that a skeleton of a gigantic human was discovered during a gas exploration in the south east region of the Arabian desert and sports an attached photograph to "prove" the claim. However, the cleverly created image of the giant skeleton is actually an entry in an image manipulation contest by artist "IronKite" in which participants were instructed to create "a picture of an archaeological discovery that looks so real, had it not appeared at Worth1000, people might have done a double take".
The message tries to add legitimacy to its fanciful tale by referencing the Quran's Prophet Hud and the people of Aad (or "Ad"). Some Islamic references do claim that the people of Aad were thought to be giants. However, other material describes them as having a "stature tall among the nations" or as simply being "physically well-built". The Christian Bible also makes mention of giants.
The second variant above moves the "action" to the Indian desert and replaces the Islamic references with mentions of characters in Indian mythology, including Brahma and Bhima's son. According to Indian legend, Bhima's son Ghatotkacha was a powerful fighter with magical abilities, although he is not generally described as a giant. Other than the change in mythological references, much of the wording in the two hoax variants is virtually identical.
The Indian based variant includes IronKite's image along with three other giant skeleton pictures that also originate from the same Worth1000 contest. The second picture in the set, complete with giant revolver, is titled everlasting rest and was created by amaranto. The third image is an entry simply named Giant Skeleton and was created by Anakinnnn. And the fourth image in the set is named Uncovered Giant and was created by Trit.
The hoax was apparently republished by several media outlets in Indian, Bangladesh and elsewhere. A scan of one of these newspaper articles is included in one version of the hoax email. Such articles have given the hoax undeserved credibility.
IronKite's creation has even been featured in a YouTube video entitled "Proof evolution is an evil lie from satan(the devil)".
The video's creator uses IronKite's giant skeleton, along with other dubious images, as "proof" that giants once lived on Earth. The inclusion of a well-documented hoax image, in addition to a number of logical flaws, seriously undermines the video maker's credibility and has earned him the ridicule of his fellow YouTubers.
The image and "Arabian desert discovery" description is also included in another fanciful YouTube video warning of impending disaster for Earth. Again, the blatant use of a well-known hoax as "proof" decimates what little credibility the video had to begin with.
Even if you do believe that a race of giants once walked the Earth, you can rest assured that these photographs do not depict some of their remains. In their original context as part of a Worth1000 contest, the status of the images as purely fictional "archaeological discoveries" is quite clear.
Apparently, however, some unknown prankster stole IronKite's image from its original setting, added some seemingly relevant text, and sent it on its way. Perhaps due largely to the talent of its creator, the image has circulated ever since.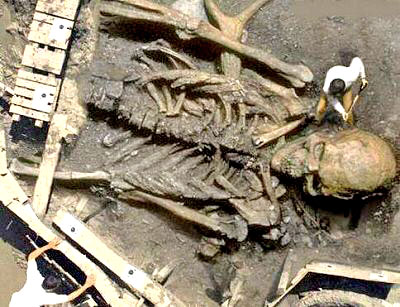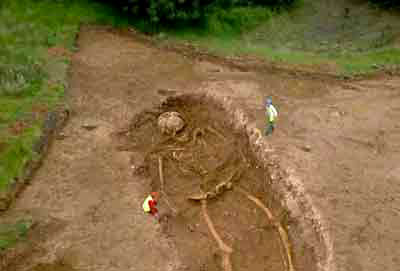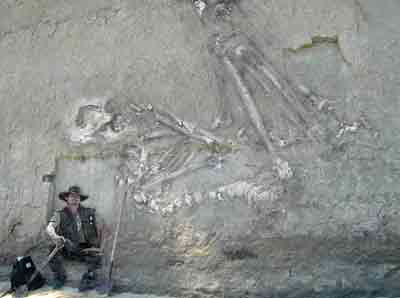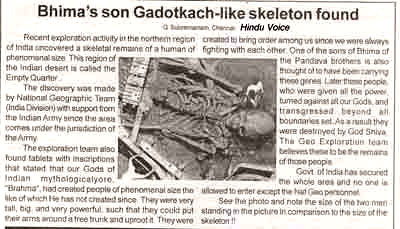 ---