Fahrenheit 451 – (Full Movie)
February 7, 2013 in Weird News
Fahrenheit 451 is a 1953 Dystopian novel by Ray Bradbury.
The novel presents a future American society where reading is outlawed and firemen start fires to burn books. Written in the early years of the Cold War, the novel is a critique of what Bradbury saw as issues in American society of the era.
The title refers to "the temperature at which book paper catches fire and burns". 451° Fahrenheit is approximately 233° Celsius.
The novel has been the subject of various interpretations, primarily focusing on the historical role of book burning in suppressing dissenting ideas. Bradbury has stated that the novel is not about censorship, but a story about how television destroys interest in reading literature, which leads to a perception of knowledge as being composed of factoids, partial information devoid of context.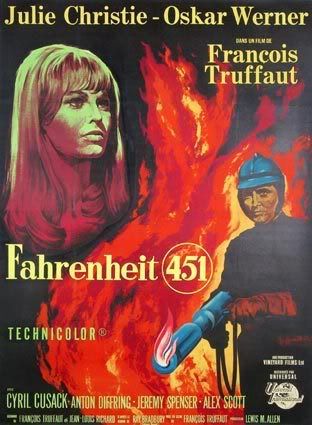 You Can Watch the Full Movie Following these links….
The Movie is in parts so please click the links in order.
P.S. There are commercials….so please be patient…
They are only like15-30 seconds each.
http://www.dailymotion.com/video/x8wpku_fahrenheit-451-v0-1_tech#rel-page-2
http://www.dailymotion.com/video/x8wpm0_fahrenheit-451-v0-2_tech#rel-page-4
http://www.dailymotion.com/video/x8wrhm_fahrenheit-451-v0-3_tech#rel-page-3
http://www.dailymotion.com/video/x8wrj9_fahrenheit-451-v0-4_shortfilms#rel-page-6
http://www.dailymotion.com/video/x8wsdc_fahrenheit-451-v0-5_tech#rel-page-5
http://www.dailymotion.com/video/x8ws5x_fahrenheit-451-v0-6_tech#rel-page-1
http://www.dailymotion.com/video/x8wsfb_fahrenheit-451-v0-7_tech?ralg=meta2-only#from=playrelon-1