Extinction Events
December 30, 2012 in Weird News
"Although the Cretaceous-Tertiary (or K-T) extinction event is the most well-known because it wiped out the dinosaurs, a series of other mass extinction events has occurred throughout the history of the Earth, some even more devastating than K-T. Mass extinctions are periods in Earth's history when abnormally large numbers of species die out simultaneously or within a limited time frame. The most severe occurred at the end of the Permian period when 96% of all species perished. This along with K-T are two of the Big Five mass extinctions, each of which wiped out at least half of all species."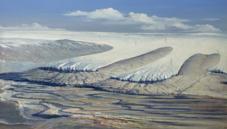 The Ordovician–Silurian extinction event, or quite commonly the Ordovician extinction, was the second-largest of the five major extinction events in Earth's history in terms of percentage of genera that went extinct and second largest overall in the overall loss of life. Between about 450 Ma to 440 Ma (million years ago), two bursts of extinction, separated by one million years, appear to have happened. This was the second biggest extinction of marine life, ranking only below the Permian extinction. At the time, all known life was confined to the seas and oceans.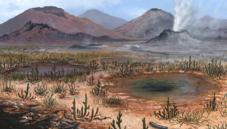 The Late Devonian extinction was one of five major extinction events in the history of the Earth's biota. A major extinction, the Kellwasser Event, occurred at the boundary that marks the beginning of the last phase of the Devonian period, the Famennian faunal stage, (the Frasnian-Famennian boundary), about 374 million years ago. Overall, 19% of all families and 50% of all genera went extinct. A second, distinct mass extinction, the Hangenberg Event, closed the Devonian period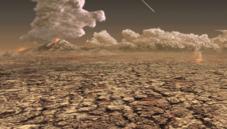 The Permian–Triassic (P–Tr) extinction event, informally known as the Great Dying, was an extinction event that occurred 252.28 Ma (million years) ago, forming the boundary between the Permian and Triassic geologic periods, as well as the Paleozoic and Mesozoic eras. It is the Earth's most severe known extinction event, with up to 96% of all marine species and 70% of terrestrial vertebrate species becoming extinct. It is the only known mass extinction of insects. Some 57% of all families and 83% of all genera became extinct. Because so much biodiversity was lost, the recovery of life on Earth took significantly longer than after any other extinction event, possibly up to 10 million years.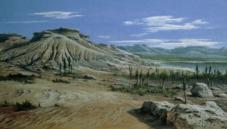 The Triassic–Jurassic extinction event marks the boundary between the Triassic and Jurassic periods, 201.3 million years ago, and is one of the major extinction events of the Phanerozoic eon, profoundly affecting life on land and in the oceans. In the seas a whole class (conodonts) and twenty percent of all marine families disappeared. On land, all large crurotarsans (non-dinosaurian archosaurs) other than crocodilians, some remaining therapsids, and many of the large amphibians were wiped out.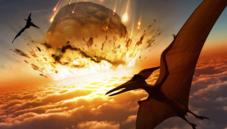 The Cretaceous-Tertiary mass extinction – also known as the K/T extinction – is famed for the death of the dinosaurs. However, many other organisms perished at the end of the Cretaceous including the ammonites, many flowering plants and the last of the pterosaurs. Some groups had been in decline for several million years before the final event that destroyed them all. It's suggested that the decline was due to flood basalt eruptions affecting the world's climate, combined with drastic falls in sea level. Then a huge asteroid or comet struck the seabed near the Yucatan Peninsula in Mexico and was the straw that broke the camel's back.