Ex-Satanist Exposes Illuminati Card Game and the NWO
July 29, 2012 in Weird News
An ex-Satanist reveals the plans for the NWO and exposes Steve Jackson's Illuminati Card Game.
               Are you ready for some amazing info? http://www.sjgames.com/illuminati/
In 1990, role-playing inventor, Steve Jackson, was planning his newest game, which he would ultimately call the "Illuminati — New World Order" Game, or "INWO" for short.
Jackson was creating a game that would hit very, very close to home, very close to the actual plan of the Illuminati to propel the world into the New World Order — also known as the Kingdom of Antichrist.
Jackson issued playing cards, three of which foretold the events of 9/11, three of which correctly predict future events just ahead of us, and two that correctly foretell the last two events that the Bible foretells will occur during the final birth pangs that will produce Antichrist!
some say one of his cards predicts an event at the olympics games in london 2012
http://www.youtube.com/watch?v=FdPGXOuVGd0 part 1
http://www.youtube.com/watch?annotation_id=annotation_822551&feature=iv&src_vid=FdPGXOuVGd0&v=WVBY34Gwd14 part 2
London Olympics 2012 Illuminati Card Game NWO Zion False Flag Attack?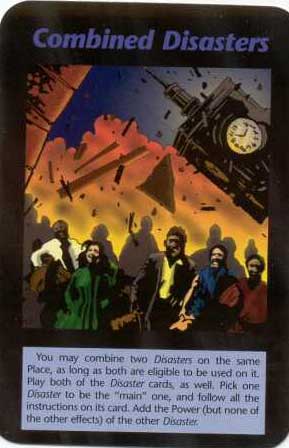 http://www.youtube.com/watch?v=4s-UWBzZiG0&feature=player_embedded
http://www.youtube.com/watch?v=G8N9bfzCJA8
http://www.youtube.com/watch?v=8zEFKT7s75k
The Illuminati Game: (The future on cards)  http://www.youtube.com/watch?v=8zEFKT7s75k
http://en.wikipedia.org/wiki/Illuminati_(game)
http://en.wikipedia.org/wiki/Steve_Jackson_Games
http://en.wikipedia.org/wiki/Steve_Jackson_Games,_Inc._v._United_States_Secret_Service
http://www.google.be/search?q=the+illuminati+card+game&hl=en&qscrl=1&nord=1&rlz=1T4ADFA_enBE487BE487&prmd=imvns&tbm=isch&tbo=u&source=univ&sa=X&ei=_pMVUOGbMqiu0QXys4HoBw&sqi=2&ved=0CE0QsAQ&biw=1920&bih=925
J.C. Penney's To Become First Major Retailer To Adopt Cashless Biometric Payment Systems In All Stores – To Ditch Registers / Cashiers