Scientists record temperatures below absolute zero for first time
January 5, 2013 in Science
Scientists record temperatures below absolute zero for first time
by Ken Anderson, Science Recorder, Saturday, Jan 5th, 2013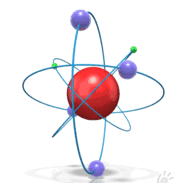 Scientists have made a startling achievement long thought to be impossible: a negative absolute temperature.
Using a reversed magnetic field on a laser-stabilized lattice of super-cooled potassium atoms, physicists at the Ludwig-Maximilians University Munich and the Max Planck Institute of Quantum Optics in Germany registered a temperature a "few billionths of a Kelvin" below absolute-zero.

A pentacene molecule imaged with an atomic force microscope
The team in Munich cleverly leap-frogged this barrier by cooling about 100,000 atoms of quantum potassium gas inside a vacuum to a few nanokelvin above absolute zero, then reversing the magnetic field surrounding it.
Tweaking the field "suddenly shifts the atoms from their most stable, lowest-energy state to the highest possible energy state, before they can react," said physicist Ulrich Schneider, one of the project leads. "It's like walking through a valley, then instantly finding yourself on the mountain peak."
Read more:
www.sciencerecorder.com/news/exclusive-scientists-reach-temperatures-below-absolute-zero-universe-expansion-theory-questioned
---