Top 5 places to visit in South Korea
September 7, 2017 in Outdoors
South Korea offers a lot of attractions that tourists must see while visiting. Among the attractions are those which are mostly loved by international tourists. South Korea is an unexpected mix of high fashion, inspiring history and mesmerizing scenery.
If you love travelling, South Korea should be on the top of your bucket list. South Korea is already a destination for the fashion pack and the food lovers. The cherry blossom festival runs from March to May and is a must see. Gyonghwa Station is called as cherry blossom road where the train tracks runs through the avenues of pastel blossom.
Due to their long history South Koreans have a variety of traditions and they have kept alive since the centuries'. When you visit South Korea you can watch traditional Korean dance and other music performances.
South Korea has its own variation of well known Karaoke called as noraebang and you can even rent a place with your relatives and friends so you sing, enjoy, dance, and drink all the night.
Top 5 places to visit in South Korea

Gyeongbokgung Palace



This palace was the major legal residence of the Royal family at the time of Joseon Dynasty. The palace is well-known for its wide area and harmony of buildings. All the four major gates of this palace are still in existence. It was also used as venue for royal banquets in the past. Before stepping in the palace, tourists enjoy the gathering at Gwanghwamun Gate to watch the Royal Guard Changing Ceremony. The palace also houses the National Folk Museum of Korea.
Jeju Island


Jeju Island lies 85km off the coast of South Korea. It had developed its distinctive and unique history. It is recognized for its traditional attires, linguistic custom and structural designs. It has moderate climate that is different from the mainland. When you visit the island you will come to see exquisite botanical gardens, lava caves, sandy beaches, a folk village and its famous O'Sulloc Tea Museum
. You will love to learn about South Korea's famous traditional tea culture.
Dongdaemun Market


Dongdaemun Market is a large commercial district which is comprised of the traditional markets and shopping centres that covers the whole sea around Dongdaemun Gate, which is a high-flying landmark in Korea. If you are shopping lover you will be amazed to know that it is Korea's largest retail and wholesale shopping district which has near about twenty six shopping malls, more than 28000 shops and 50,000 manufacturers. If you know the local language you can take more advantage of shopping by explaining your needs and can get a better price too.
If you want to learn Korean language before your South Korean trip, expert faculty at Preply.com can help you learn. You can learn the language easily within the comforts of your home.
Insadong

Insadong is one of the most popular Seoul attractions and it shows the focal of the Korean culture and the crafts. Stores are specialized in a variety of goods that can exclusively be purchased in Korea. It includes hanbok, the traditional clothing, hanji which is a traditional paper, pottery, folk crafts and the traditional peas. If you are lover of art and interested in collecting art work you can find near about 100 galleries in the area. You can buy paintings to the sculptures. You can also enjoy traditional performances and exhibitions as well. The street offers royal opportunities for visitors to experience Korean traditional arts and culture.
Lotte world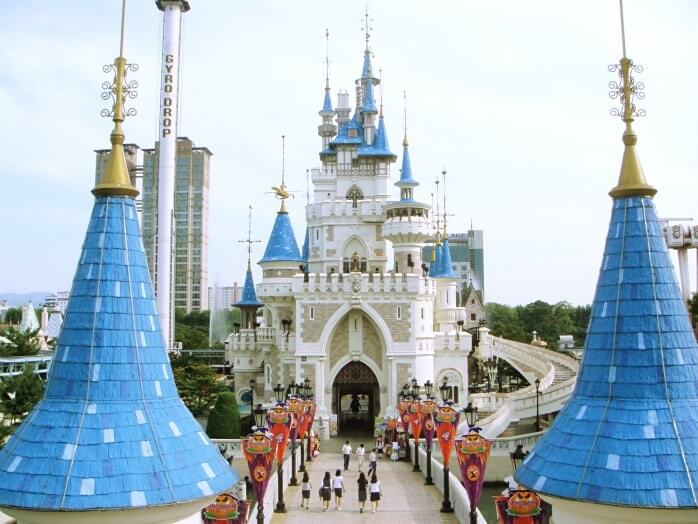 Lotte world comprises of the world's largest indoor theme park which is open throughout the year. The outdoor amusement park is called the Magic Island which is a manual island inside a lake linked by shopping malls, a Korean folk museum, sport area, and multiplexes all at a one place. Around 8 million visitors visit every year and it is also known as one of the top parks in Asia. The amusement rides attract many tourists and they feel the thrilling experience of rides. Tourists can also enjoy variety of laser shows.
When you visit South Korea you will experience ancient culture with modern amenities. There are pop-music shows along with folk dancing, street festivals, and delicious food. It is most famous for versatile pickle which is commonly made with cabbage and pepper paste and it also combines radishes, cucumber, and other vegetables.
"The world is a book and those who do not travel read only a page"