How to Deal with Autumn Leaves in Your Yard
November 6, 2017 in Outdoors

©Pexels
In many areas, autumn seems to be the most beautiful season of the year when green leaves turn yellow or reddish. Everybody will say an exclamation of surprise if they witness this incredible landscape. However, the moment of enjoyment does not last for good, and sooner or later, you definitely have to face an annoying problem that leaves fall off. To clean all autumn leaves is not difficult, but to do it in the fastest and easiest way is not the common answer everybody knows. What an interesting strategy!
Make a plan ahead
It is not really good to take care of and clean your leaves all the time. You know what? Some leaf layers themselves are natural and even a small habitat for several kinds of animals as turtles, salamanders, chipmunks and so on. At the same time, an appropriate layer can provide a huge shelter for beneficial insects.
So, what time is the best to make a clean-up? It is highly recommended that you should collect leaves when you can not see the top of the grass blade. If you decide to collect them, do not try to make a leaf harvest in a single day. Plan to clean the leaves for a few days in the fall.
Collecting leaves depends on each particular area
There are several helpful tools to help you deal with the autumn leaves.
For lawns and small gardens, it seems to be not a solution but for raking. The wider the rake is, the more energy you consume. Therefore, you should pick up a rake that is of standard with (24"). Work from one side of the lawn to the other in a zigzag. Never repeat your steps. For each line you scratch, move the leaf to the area where the leaves are not scratched. Every time you create a ridge of leaves, push it a few feet into the unraked area. Repeat this until your pile is two feet tall (0.6096 meters) or you will have trouble in removing. More importantly, you can succeed in removing both leaves and thatch on your lawn at the same time, which other tools like leaf vacuum or blower cannot do. Because of this function, rake is kind of important in lawn care.

©true-temper.com
Even though rake is effective to some extent, many people nowadays would like to save their energy and often choose automatic machines. Besides, rake is totally your good choice in some situations such as when leaves fall between rocks, when they get stuck at the bast of fence or they drop on decks. In this case, nothing is more useful than blowing or vacuuming. Of course, you should pay attention to many factors like weight, noise, battery, voltage and more to make sure that it is the best for you.
Either rake or leaf blower, you both need to remove the leaves with a tarp or bag. Put four corners of the tarp together and then just drag it to move the bundle. But guess what? You can save more time when you use vacuum mulcher, one tool often refers to DIY gardening website.
How to use a leaf vacuum mulcher
As the name reveals, a leaf vacuum mulcher, like an ordinary leaf vacuum, uses vacuum to get rid of leaves from lawns, patio and other areas. However, it is more advanced than the conventional gadget thanks to its special blades which slice and dice leaves into small pieces.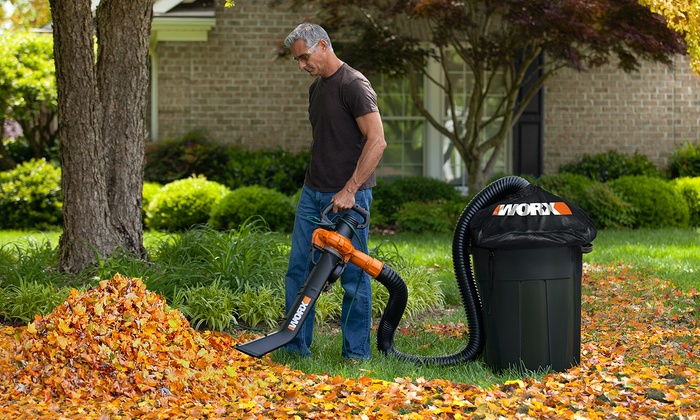 ©img.grouponcdn.com
Basically, there are two types of mulcher, including that is with bag and without bag. As for bag mulcher, the mulcher comes with a bag or basket which is pushed along with the mulcher itself and in which the mulched leaves are collected, to be thrown away or returned to the soil. As for without bag, this kind seems to be cheaper, but it tends to throw the mulched leaves directly back onto the ground. This can be acceptable in case you start mulching. Either with or without a bag, it depends much on your requirement.
Take everything into consideration, when the autumn comes, leaves fall much in the yard, garden, so it is time to do the job of clearing leaves. However, choosing a proper time to blow leaves is playing a key role in order not to end up damage your habitat. This work might consume time, but many tools are always ready to turn it into an easy and time- saving task. Keep in your mind that each tool has its merits and demerits to help you deal with autumn leaves in all "terrains".
Synthetic Lubricants Market – Global Industry Insights, Trends, Outlook, and Opportunity Analysis 2017 – 2025