7 Tips For A Less Stressed Move
January 9, 2018 in Outdoors
Moving.  That one word alone strikes fear in even the most fearless.
But, even though moving is rated as one of the top stressors of life, there are things you can do to minimize those stresses whether you choose to hire a moving company or do-it-yourself.
Make certain you have plenty of moving supplies: There's nothing more frustrating than running out of packing tape when you're in the packing groove.  Tape is the one supply I over-buy when moving!
Begin packing early:  I can't tell you how many times we waited until the last minute to pack when we knew a month ahead we were going to move.  Save your sanity and just don't do it.  If you don't need it in day-to-day life, pack it up! If you want to store them for later relocation, you can simply use storage service.
Pack cleaning supplies in the very last box:  You'll need cleaning supplies to get your old home in move-out condition and your new home in move-in condition.  And, when you're finished cleaning your old residence, mark your cleaning supplies box CLEARLY so that you can know exactly where to locate it to clean away the ickiest at your new pad!

Use unlikely items to pack delicates in:  When I was a kid, my parents had a HUGE chest deep freeze.  After getting it cleaned out and instead of letting all of that precious space go to waste, we would pack lightweight items and delicate items, such as comforters, pillows, and lampshades and yes, we even wrapped a tube television set in blankets and stuck it in there once!  Space is a precious commodity when moving.  Utilizing it improperly can mean the difference between getting everything to fit in the space you have OR having to rent a trailer to pull behind your rented moving van (we've done this a few times!)
Take pictures of your valuables:  No one wants to think about it, but sometimes things get lost and sometimes you may have to make a claim on an item when you move.  By having pictures of your valuables, you'll make the claim process go much smoother!
Rid your home of clutter:  There's no better way to a fresh start at a new home than de-cluttering your old one.  Instead of viewing it as a chore or a burden, view it as a reward to yourself- you're freeing yourself of old things that may be holding your back.  Embrace the exciting changes that are coming with your move!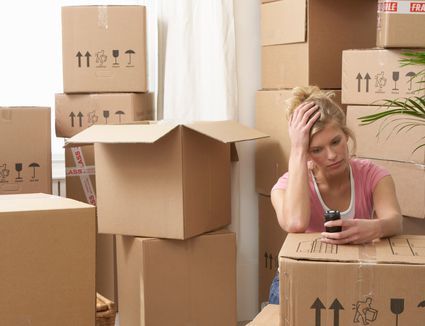 If you're a Type A personality, brace yourself that things aren't going to go as planned during your move.  No matter how much planning, organizing, and forethought you put into your move, something will go awry.  Plan ahead for minor (and sometime major) setbacks and know that it's just part of the process.
I think the most important thing to keep in mind when moving is that this too shall pass.  While it may seem like it's never going to end, it always does.  After all, you've never visited a friend living out of a moving truck.