Update From Pastor Lindsey Williams – January 18 2014
January 18, 2014 in Economics
Update From Pastor Lindsey Williams – January 2014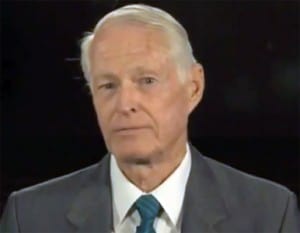 I have had an email update from Pastor Lindsey Williams relating to what is about to happen around the world in relation to the global currency reset.
Pastor Williams says "There are some strange things happening in the financial world in the past few weeks.
I have been hesitant to risk my reputation on what I know. Christine Lagarde, IMF personally came to the U.S. a few days ago.
A gentleman who was in the meeting she had with some of the most powerful people in America, he said she was very angry and vowed to close some banks down if they did not cooperate immediately.
We are in the midst of a big power struggle.
 People that I know in the financial world are extremely concerned because they expect "that one of the numerous things could happen any time"."
He went on to say "The best advice I can give is – "If it is written on a piece of paper, it is worth the paper it is written on.
" GET OUT OF PAPER!"
Those of you who prepare now are going to prosper. Those who second guess Pastor Williams' warnings will find the future bleak.
Furthermore, he also told me "I have done no radio shows and cannot for a while because I don't dare answer certain questions."
Chaplain Williams will not be available until the middle of February 2014.
However, he said that "I will send you updates every time I can (am allowed to)."
Pastor Williams ended his email stating "please urge everyone to get the Global Currency Reset DVD and give it to everyone they know".
If you have not already viewed the DVD you can purchase one from Prophecy Club.
This DVD will inform you about what is happening and how you can protect yourself and your family. The currency reset could happen at any time, without warning.
On a personal note, I have read the comments that come from the many concerned visitors and followers of Pastor Williams' work at his website LindseyWilliams.net. It looks like several people are trying to out-guess the Elite. As Pastor Williams has said many times GET OUT OF PAPER! Fiat currencies such as the Iraqi Dinar, Chinese Yuan and Bitcoin are worthless. The only investment you should make is in physical gold and silver. Pastor Williams has said this time and time again "Gold and silver are the currency of the Elite!" Please listen to what he says and prepare accordingly.
here is a link to the transcript of the speech made by Lagarde in PDF format from the press club :
http://www.press.org/sites/default/files/20140115_lagarde.pdf
Christine Lagarde, Managing Director of the IMF, speaks of Numerology and the number 7 on Jan. 15,2014
- See more at: http://www.lindseywilliams.net/breaking-news-financial-event-planned-by-the-elite-imf/#comments
Valentine's Day feb 14, shares the following significant events.
They may not have fallen on that day through coincidence:
1946 Bank of England nationalised
1971 Richard Nixon installs secret taping system in White House
1963 U.S. launches communications satellite Syncom 1
1958 Arab Federation of Iraq and Jordan forms
1950 U.S.S.R. and China sign peace treaty
1903 U.S. Department of Commerce and Labor forms
1670 Roman Catholic emperor Leopold I chases Jews out of Vienna
1076 Pope Gregory VII excommunicates Henry IV And, as pointed out,
2/14 = 2 + 1 + 4 = 7
Paul Volkar [Chairman of the Federal Reserve under Presidents Jimmy Carter and Ronald Reagan] said in the Washington Times [Oct 25, 2012]
that .."there is a very large possibility that the real end of the world will occur around March 4, 2014″.
We know that this is not the end of the world, but it does suggest that he has chosen to use that actual date for some reason [….it could be a practical reason or an occult significant date?]. 4th March: 3 + 4 = 7 [not a weekend though…]
Significant historical events for 4th March:
2001 – 4 March 2001 BBC bombing: a massive car bomb explodes in front of the BBC Television Centre in London, seriously injuring 11 people. The attack was attributed to the Real IRA. 1801 – 1929 – 13 x US presidential inaugurations 1791 – Pres Washington calls the US Senate into its 1st special session
1789 – 1st Congress declares constitution in effect (9 senators, 13 reps)
1699 – Jews are expelled from Lubeck Germany
1492 – King James IV of Scotland concludes an alliance with France against England.
1215 – King John of England makes an oath to the Pope as a crusader to gain the support of Innocent III.